Understand Your Target Market Segments
According to Venture Scanner, there are 1,541 insuretech companies across 14 categories. (Source: Venture Scanner)
The insurtech space is growing at a pace making it difficult for insurers to identify, research, evaluate, and implement insurtech solutions for their organization. One of the keys to success for an insurtech company, whether you are an early-stage startup or an established company is to ensure your value proposition resonates in your target market segments.
The TSI Market Research Process
Our Market Research offering is an interview-based methodology with the goal of aligning your value proposition with the needs of your target market segments. We interview key people at your company to understand their perspectives, your customers, our prospects and key contacts in the industry. This process has proven to be an excellent way for our clients to create, modify or validate the positioning and messaging of both their company and solutions in the industry through a third party.
The diagram below illustrates the steps involved in our Market Research engagement. We start by taking the time to fully understand and document your company's go-to-market strategy, value proposition, and differentiation in the market in the form of a customer briefing. It is important for us to understand what has worked as well as what has not worked with your sales and marketing efforts.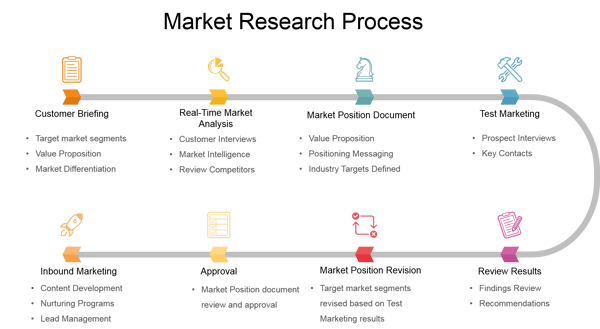 The deliverables from our market research offering include:
Customer test market interviews
Marketing positioning document
Prospect test market interviews
Company content review
Executive summary report with recommendations