Understand Your Target Market Segments
According to InsuranceNewsNet, there are over 1,300 insurtech companies in the U.S. alone
The good news for insurtech companies is the global insurtech market is expected to grow at a CAGR of 32.7% from 2021 to 2030. The bad news is the 1,300 insurtech companies focused on less than 6,000 insurance carriers in the United States.
As the insurtech space continues to grow rapidly, it becomes increasingly difficult for insurers to identify, research, evaluate, and implement insurtech solutions for their organization.
One of the keys to success for an insurtech company, whether you're an early-stage startup or an established company, is ensuring your value proposition resonates with your target market segments before investing in sales and marketing.
The TSI Market Research Process
Our Market Research offering is an interview-based methodology with the goal of aligning your value proposition with the needs of your target market segments. We interview key people at your company to understand their perspectives, your customers, our prospects, and key contacts in the industry.
This process has proven to be an excellent way for our clients to create, modify or validate the positioning and messaging of both their company and solutions through a third party.
The diagram below illustrates the steps involved in our Market Research engagement: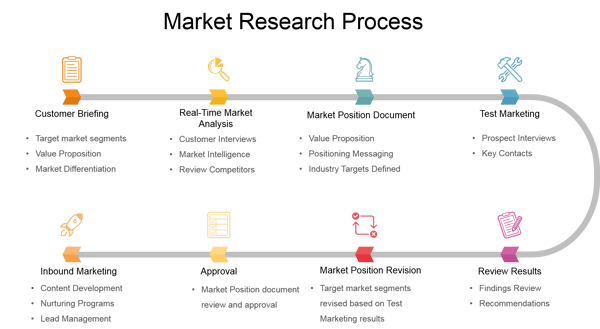 The deliverables from our market research offering include:
Customer test market interviews
Marketing positioning document
Prospect test market interviews
Company content review
Executive summary report with recommendations
Clients who have taken the time to research their target markets have gained traction faster and have been able to anticipate customer objections rather than react to them.