GTM Strategy and Plan
Develop a go-to marketing strategy to achieve your business goals
Working closely with your senior team, we will develop a comprehensive marketing strategy and gameplan that will identify the best opportunities for your marketing budget. We take into consideration upcoming opportunities in the industry where your product or service would be of interest to your target audience. Our goal is to provide you with a well-thought-out, proactive marketing gameplan.
Project Deliverables Include:
Identify Target Market Segments

Buyer Persona Development

Keyword Research

Social Media

Blog Topics

Email Campaigns

Competitive Analysis
By having a GTM strategy and plan in place, you can set goals for your marketing team and measure the results. We can help you set the appropriate goals to determine what is working well and what's not so adjustments can be made to your strategy.
Market Research
Validate Your Target Markets
Our Market Research offering is an interview-based methodology with the goal of aligning your value proposition with the needs of your target market segments. Our market research process involves interviewing key stakeholders within your organization, customers, prospects and some of our key contacts in the industry.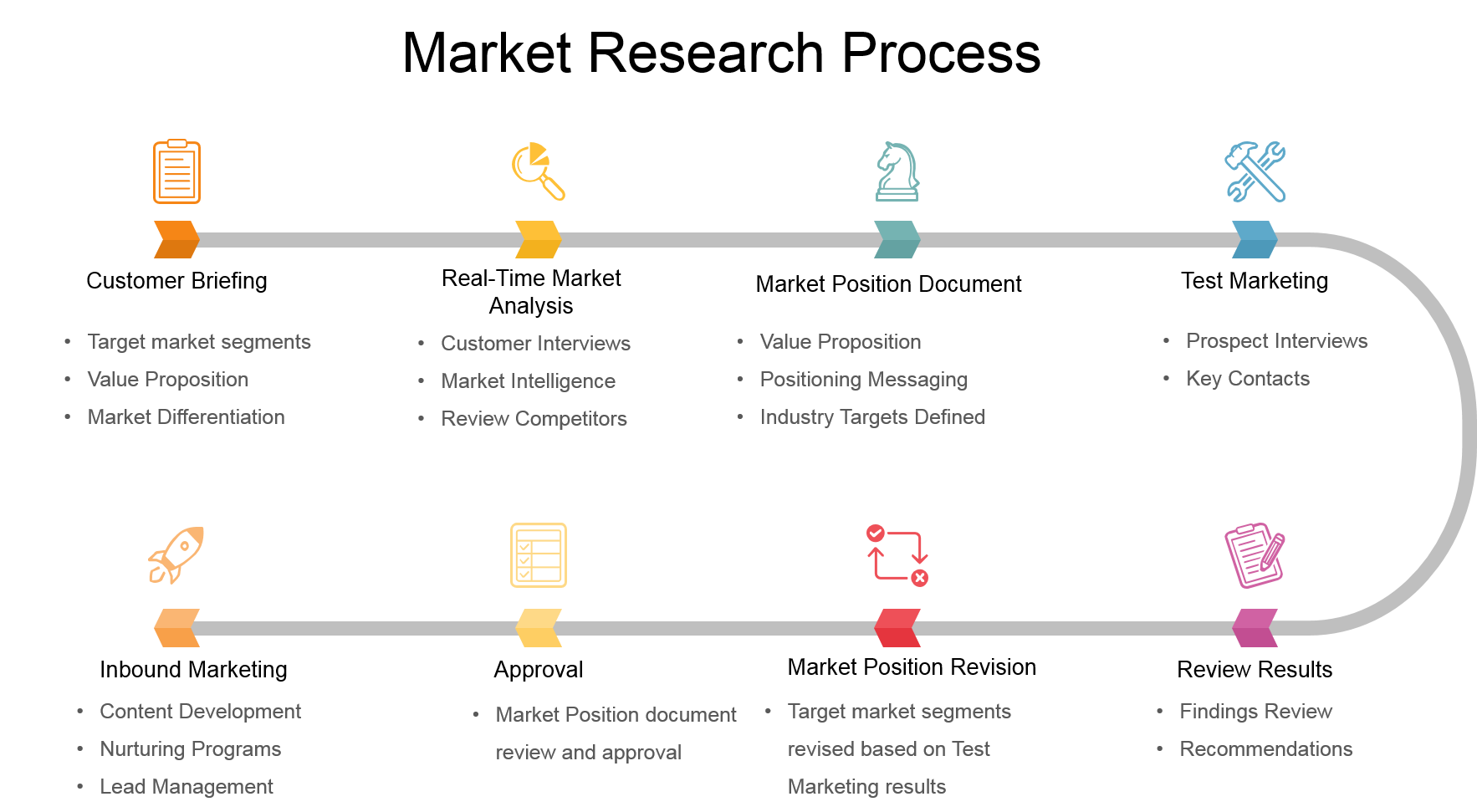 Based on the results of these interviews, the gathering of market intelligence and a review of your competitors, we develop a Market Position Document that becomes the foundation of your marketing strategy.
Project Deliverables Include:
Customer Test Market Interviews

Market Positioning Document

Prospect Test Market Interviews

Company Content Review
This process is a proven way to create, modify or validate the positioning and messaging of your organization and the solutions you provide.
Inbound Marketing Assessment
Not sure if inbound marketing right for your organization? Our Inbound Marketing Assessment consists of walking you through a SWOT process that covers all the key areas of implementing an inbound marketing strategy in your organization and what risks are involved.
Inbound Sales Assessment
Our inbound Sales Assessment service can help you decide if an inbound sales approach makes sense for your organization.
Project Deliverables include:
Analysis of your current sales process; what has worked well and what hasn't

Inbound Sales SWOT analysis of your sales organization

Implementation Plan: from the SWOT analysis, we develop a plan that includes the approximate cost and time required to implement an inbound sales strategy for your company

Key findings and recommendations
Inbound Website Assessment
Have you recently invested a significant amount of time and money launching a new website that isn't generating leads for your company? If your answer is yes, you are not alone.
Most websites are not designed to generate leads, but rather showcase the products and services offered by the company.
The good news is this can be relatively easy to correct. We analyze several aspects of your website and provide recommendations on how your website can be working hard to generate leads for your company.
Project Deliverables Include:
Content Review:

Does your website provide helpful information at all three stages of the buyer's journey?
Conversion Opportunities:

What conversion opportunities or calls-to-action (CTAs) exist and where new CTAs should be placed.
Site Navigation: How easy is it for visitors to find the information they are looking for? We evaluate how your menus are set up along with links to both internal and external pages.
Performance:

The performance of your website is crucial to increasing traffic, improving conversion rates, generating leads and revenue.
Mobile readiness:

With traffic from mobile devices increasing, your website should be optimized for mobile. We review your website to grade how mobile-friendly your site is.
SEO:

Your site has to be easy to find by interested buyers. We assess your website to determine how easy your site is to discover via search bots by grading page titles, meta descriptions, and other data.
Security:

Having an SSL certificate protects your website from attacks and provides your visitors with the confidence that your site is authentic. Visitors to your site may feel safer entering their contact information.
Our blog post "3 Reasons Your New Website Isn't Generating Leads" has more details on how companies can not only increase traffic to their website but generate leads from interested buyers.